Additional comics I bought this weekend. Instead of reviewing them, I think I'll just share favorite quotes: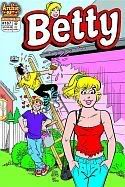 Betty #167
"I was feeling lonesome! It's nice of you guys to keep me company!"
Betty, to a group of squirrels
Tarot: Witch of the Black Rose
#45
"I swear by all that is unholy and putrid that you will be
imprisoned
in this frozen wasteland until you are an
old rag
[...]"
The Bleeding Man, attempting to scare Tarot into giving him the Witch Key
Wonder Woman #11
"Diana, today you invoked my name twice, asking for my help as the Goddess of Wisdom, but you seem to have forgotten, or perhaps
chosen
to ignore, that I am also the Goddess of
War
and the Goddess of
Strategy
and it is for me and me
alone
to say how and when and why I wave my '
mighty hand
'!"
Athena, getting tired of answering Wonder Woman's prayers
Latest Month
September 2019
S
M
T
W
T
F
S
1
2
3
4
5
6
7
8
9
10
11
12
13
14
15
16
17
18
19
20
21
22
23
24
25
26
27
28
29
30
Friends & Family (people I actually know in real life)