I picked up some additional comics from the last few weeks this weekend: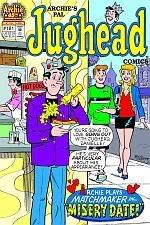 Archie's Pal Jughead Comics #181 -- Four more fun stories. And don't let the cover fool you -- the editors aren't trying to give Jughead a girlfriend again. It's just a story where we find out that when forced to do it, Jughead is a very bad dater...



Justice League of America #9 -- Another chapter of the JLA/JSA/LSH team-up. It's overwritten and overwrought. I enjoy the JSA chapters much more.



Wonder Woman #9 -- Another chapter of Amazons Attack, and it's all tedious. At this point, I'm just waiting for Gail Simone to become the writer...